Snowball Special Fat Bike Race, Sun Valley ID
February 17, 2018 @ 8:00 am

-

5:00 pm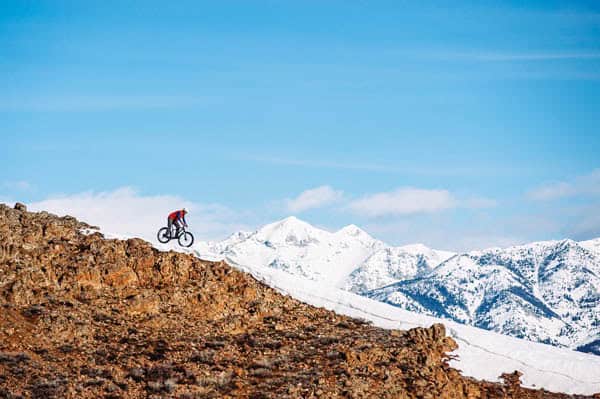 The "Snowball Special Fat Bike Race" was the name of the Union Pacific Railroad's ski train which carried skiers from stops in Southern California to beautiful Sun Valley, Idaho, from 1958 to 1972.  Many LA based people took advantage of the trail's route and Sun Valley's offering of lodging-lift ticket-travel packages for the snow-bound commuters.  The vacation party began once the wheels started rolling, with a jazz band playing and passengers dancing from the departure to the arrival in Ketchum.
Though this rail ended with mountain bound ski bunnies, silver mining initially brought it to the Wood River Valley in the 1880's, with the tracks reaching Ketchum in 1883 to great celebration.  The local residents are said to have welcomed the railroad with fireworks, baseball game, bands and horse and foot races.  This route became essential to the area economy, allowing millions of dollars worth of silver to be transported.
Following that, the summer bike trail and winter Nordic ski tracks were created on the historic trail bed of this once extremely festive train. Every year, Nordic ski races are held on these tracks.  For a second year, Rusch Relations, the Fat Bike Advocacy Group, and the Wood River Bike Coalition is excited to add to that tradition with the second annual Snowball Special Fat Bike Race!
Come kick off the Sun Valley Nordic Festival- Nordic Town USA with this great Snowball Special Fat Bike Race!
The trails that are included in the course are Diamondback, White Cloud, Dog Loop, and Boundary. 
Please note, the Nordic Trails will not be open for riding prior to the event.
DO NOT RIDE TRAILS WITHOUT A VAIL TRAIL PASS FROM SUN VALLEY
​Helmets will be required for all participants pre-riding and during the race.
This is a "fat bike" race, meaning that tires must be 3.5″ or wider.
29+ bikes, which typically have 3.0″ tires are also not allowed.
This is the race industry standard.
The last thing we want is to have an impact on the trail that would be misconstrued as
"typical" of a true fat bike.
Schedule
Race Start Saturday, Feb 17th …. 10:00am
Expo opens at 8:00am
Day of packet pickup & registration from 8:30am-9:30am
20K will be one lap and 40K will be two laps.
40K relay will be one lap for each teammate- second teammate will be "tagged in" once first teammate finishes.
Location
200 Trail Creek Road
Sun Valley Nordic Center, White Cloud trails,
North side of Trail Ck Rd.