T
he Outdoor Retailer Show (OR), had been a mainstay of Salt Lake City since 1996. Like the Sundance Film Festival in Park City, OR and the Salt Lake had become joined at the hip in the minds of retailers, product manufacturers and outdoor enthusiasts.
Several years ago, however, cracks began to surface in the decades-old  love-fest between OR's parent company, Emerald Expositions, and Salt Lake City. Emerald had been threatening to relocate OR, unless the city addressed the lack of adequate hotel space for it's exhibitors. Approximately 27,000 industry professionals attend OR each year, and it was becoming a challenge to find conveniently located rooms for all attendees.
Officials from the Salt Lake County, Salt Lake City and the state rallied and approved a $100 million subsidy and zoning changes designed to attract a hotel partner to build a convention hotel. With a new convention hotel being fast-tracked by Salt Lake, it seemed the marriage would survive.
Hold the Horses
While OR's issues with lodging seemed to be settled, another issue had been to brewing which would, ultimately, tear the partners apart.
In 2012, Utah had passed the Utah Transfer of Public Lands Act—which would require the Federal government to grant the majority of Utah federal land to the state of Utah after 2014. The state believed the federal government had promised to transfer these lands to the State in the Utah Enabling Act of 1894.
A small group of outdoor industry heavyweights—including Patagonia, Arc'teryx and former Black Diamond CEO Peter Metcalf—had taken issue with Governor Gary Herbert and the Utah State legislature's desire to take over management of certain federal lands. They argued, publicly, that if Utah was allowed to have its way, continued access to public lands and environmental protection would be threatened—both key components for industry growth.
Utah, on the other hand, believed they would be better managers of a portion of the roughly 39 million acres the federal government managed in the state.
During the Obama presidency, it seemed unlikely that the federal government would concede to Utah's demands without a vigorously defended law suit.
During the Obama presidency, it seemed unlikely that the federal government would concede to Utah's demands without a vigorously defended law suit. As such, the issue remained below the radar for most people.
However, when Donald Trump became the 45th US president, the prospect that Utah could indeed wrestle management of certain public lands back from the federal government became real. This must have alarmed the industry group, but everything seemed to come to a head when the Trump administration signaled they were looking at reducing the size of the Bears Ears National Monument in Southern Utah.
President Obama had established the new monument with a proclamation on December 28, 2016—just days before he would be replaced by the president elect Trump.
To many, this seemed like a slap in the face for Utah, which already felt the federal government was mismanaging federal lands. Others felt this was a slap in the face of Trump and his supporters who wanted to reduce—not increase—a bloated federal bureaucracy.
Affecting Political Change
In an era where fake news, political correctness, virtue signaling and identity politics had become normalized, hyper-partisanship in corporate America also began to intensify. Corporations had begun to weigh-in on hot button political issues like LGBTQ rights, gun control and global warming. See our story on REI as one example.
So it was no surprise when this small group of outdoor industry heavyweights used their muscle to affect political change.
Emerald Expositions was thrust back into controversy. Pressured by industry heavyweights, and with the threat of losing some of their biggest OR Show exhibitors, Emerald pulled the show from Salt Lake and went on to select Denver, CO, as the new home for the show.
The move by the outdoor industry sent a clear message that they were not afraid to punish anyone or any group that opposed their position. But what was their position?
Follow The Money
Public access and the environment are important issues to all of us. But the industry also made it clear they were opposing any change that would threaten the growth of their industry. By In threatening the growth of their industry, Utah was also threatening outdoor industry profits.
By In threatening the growth of their industry, Utah was also threatening outdoor industry profits.
So the move seemed to be also about money, which left many to wonder if the claims of environmentalism and public access had merely been virtue signaling?
Or was it partisanship? Perhaps the move was merely an effort to thwart the conservative Utah legislative body's desire—whatever they were they must be wrong, right? Or perhaps it really the age old partisan tug-of-war between liberals and conservatives about the size of the federal government.
Either way, we may never know.
Utah, Unaffected
The outdoor industry was clearly out to punish Utah. However, Utah likely saw more benefit in the potential for energy exploration and other revenue than it did for the relative small amount of convention industry they would lose.
With an estimated tourism industry worth $8.17 billion in annual tourist spending in 2015 (according to the Utah Tourism Industry Association)—Governor Gary Herbert possibly saw the loss OR's estimated $7.6 million impact as a small cost of doing business.
Perhaps the outdoor industry were frustrated by their inability to force Utah drop their pursuit of federal lands. Perhaps they were vindictive and. Clearly, the industry was not satisfied and wanted more.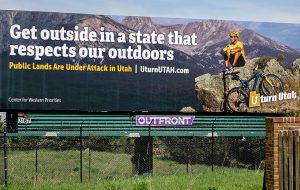 The Center for Western Priorities, for example, launched U-Turn Utah, a national advertising campaign urging tourists to find their outdoor recreation elsewhere. The campaign targeted outdoor recreation enthusiasts and policymakers with billboards in Denver, Phoenix, Reno and Salt Lake City. It also placed print ads in prominent outdoor magazines, and digital advertising. For Utahn's, and the millions of visitors who love the abundant national parks and recreation areas Utah offers.
In another follow-up move, in December 2018, Emerald Expositions struck again. North America's largest bicycle industry trade show, Interbike—also owned by Emerald—announced they had dropped Salt Lake City from the running in their search for a new event home.
More piling on by then industry include this letter from Patagonia, which basically states how Patagonia felt like it was not given the respect is deserves by the state of Utah.
Unintended Consequences
In an interview for Outside magazine, former CEO of Utah-based Black Diamond Peter Metcalf stated, "The majority of the state doesn't understand what they've lost." Metcalf's words were very prophetic.
Instead of hurting the state of Utah, it seems that Utah-based outdoor industry businesses and workers were hurt the most. The outdoor industry's actions likely led to lost business, fewer jobs and lost wages for the estimated 110,000 Utahns employed in the outdoor industry. Further, there are another 140,000 workers employed in the hospitality industry and many thousands more in general retail business who will also be impacted.
Instead of hurting the state of Utah, it seems that Utah-based outdoor industry businesses and workers were hurt the most.
In the end, outdoor industry corporations use their wealth to influence politics. In America, this is fine. Shareholders can disagree by divesting. The corporations were within their rights to take action against entities that threaten their industry. But their actions in this case were nasty and totally misguided. Ultimately they only hurt Utah private business and individuals employed in the industry.